A few months ago Jackie and I had to go to center city Philadelphia. It's not my favorite trip; however, the drive through Hammonton to catch the Atlantic City Expressway at Williamstown, and over to the Ben Franklin Bridge to Philly only takes about an hour and 15 minutes. All in all, it's not a long trip, but the traffic sure is heavier than in good old New Gretna and finding a parking place can be frustrating.
As I was cruising up the Expressway, my thoughts wandered to one of my all time favorite TV shows - Star Trek.
The crew of the Starship Enterprise
I got to thinking that Captain Kirk wouldn't have to fight traffic on his way to Philly. A trip to the Enterprise's Transporter room and a simple command to Scottie to beam him to center city, and the good captain would be walking in Philly within a few seconds. It sure beats my hour and 15 minute journey, and Kirk wouldn't have to fight for a parking spot.
This futuristic journey to Philly seems unimaginable to us, today; however, man's quest for progress would tend to prove otherwise. After all, an hour and 15 minute trip from Tuckerton to Philadelphia would have seemed just as preposterous to the Tuckertonians in the 17th century as a 3 second trip to Philadelphia seems to us today.
Back in the early 1800's a trip from Tuckerton to Philadelphia would take a few days by stage coach.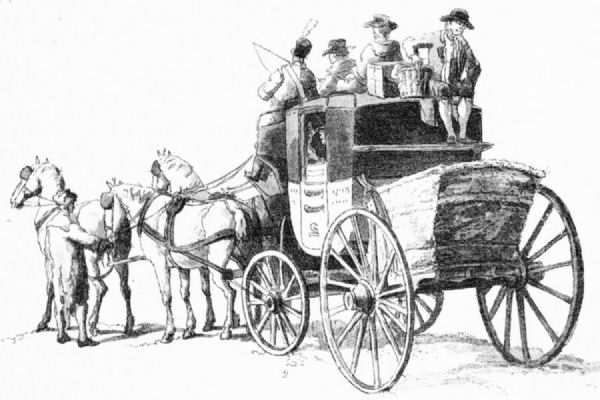 The main route was Stage Road which ran from Tuckerton on sand roads through the Pine Barrens to Camden where a ferry trip would take the traveler across the Delaware River to Philadelphia. Multiple stops would be made along the way at taverns strategically placed at distances allowing the stage coach to change horses and the travelers to stretch their legs and partake of refreshments. The trip would require a nights lodging in the middle of the Pine Barrens, often in less than desirable circumstances. Heat and high humidity combined with hoards of mosquitoes, pine flies, and green heads in the summer
and the freezing cold of winter made
the trip a challenge. It was clearly not a journey for the faint or weak hearted.
Steve Eichinger, my history buddy, wrote about traveling along Stage Road from Tuckerton to Philadelphia, highlighting the many taverns along the way. You can read his Stage Road articles which appeared in the June, 2002 and June, 2003 issues of the Bass River Gazette by clicking on the 1820 Tuckerton Stage newspaper ad below.
The July 18, 1820 newspaper clipping advertises a Monday and Thursday trip a week from Tuckerton to Camden followed by a ferry ride to market Street in Philadelphia. On the return trip passengers could disembark in Tuckerton and take a ferry to the beaches on Long Beach Island where they could procure room and board for $4.00 a week. The stage ride cost $2.00.
Following is an August 27, 1840 ad which hawks stage rides
from Philadelpia
on Wednesdays and Saturdays
to Tuckerton for $1.50 and
to Manahawkin for $2.00. It lists the route as ferrying to Camden then traveling through Marlton, Tauton, Atsion, McCarthyville, Bass River, Tuckerton, and Manahawkin. McCartyville was a papermill town which later became Harrisville.
The ads sure put traveling from Tuckerton to Philadelphia in perspective. I guess I can't complain when I'm caught in heavy Expressway traffic. After all, it's better than a day or two's stage travel over bumpy old Stage Road. It seems that I'm Captain Kirk to that 17th century stage coach traveler. Beam me up, Scotty!
PS- A special thanks to Paul Schopp, a history colleague, who provided the Tuckerton Stage ads.